My Bicycles
Jim Varnum
Introduction
At present, I have two bicycles, a custom Rodriguez and a Surly Steamroller. Both are singlespeed and setup to use a coaster brake. The installed coaster brakes are made by Velosteel in the Czech Republic to a Sachs roller-clutch design that was first patented in 1904. This type of brake works very well and is beautifully made. Though the brakes are new, they harken back to a time when the coaster brake reigned supreme in much of the bicycle world.
Rodriguez
This bike was custom made by R&E Cycles here in Seattle and is the bike I ride most of the time. It is made with Tru-Temper Ox Platinum tubes and is very responsive. The wheels are built using Velocity Deep Vee rims with the front 'laced' to a Phil Wood hub and the rear to a Velosteel. I run Vredestein Fortezza Tricomp tires which grip the road very well especially in wet conditions.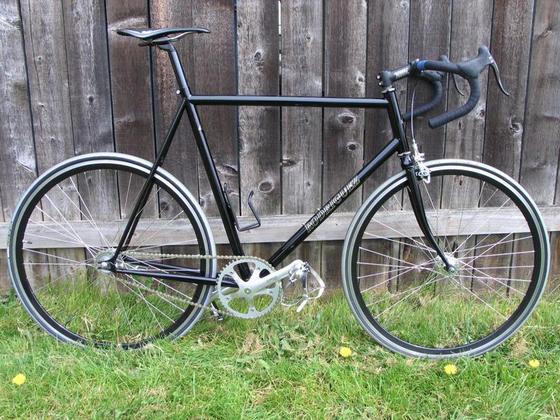 Side view
The frame has a slack geometry and is very comfortable during longer rides. The cranks are Campagnolo Record Pista with a 49 tooth chainring and the pedals are 'old school' Campy Superleggeri track. The front brake is Campy Athena and the levers are Campy Record Carbon. Profile bars, Chris King headset and Selle Italia SLR seat round out the package.
I decided to add a little harlequin wrap accent to the bars. There is a tutorial elsewhere on this site that explains how this is done.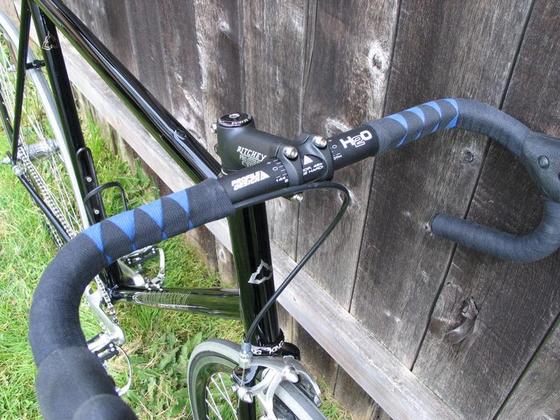 Harlequin accent
So much is my love for the coaster brake, that I had a stainless steel tab welded to the left-side chainstay to anchor the brake arm rather than risk scratching the paint by using the conventional brake arm strap.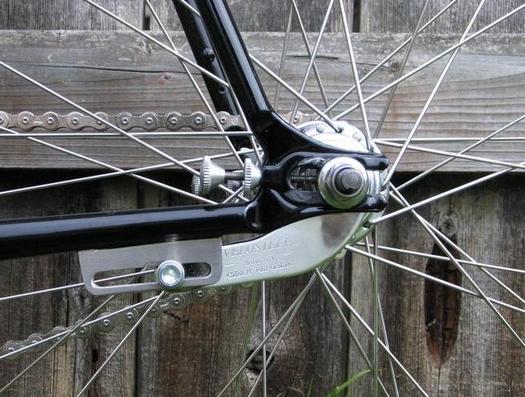 Brake arm tab
This bike was a real splurge for me but I have never regretted the investment and would highly recommend a custom frame to anyone (finances permitting).
Surly Steamroller
This is my 2002 Boston Baked Bean Steamroller. If the weather looks a little 'iffy', this is the bike I ride. That is not to say that this is my rain bike per se, I pamper this one every bit as much as my Rodriguez. Surly's are sold as framesets only and are made from 4130 Chrome Moly. The Wheels are Velocity Fusion rims laced to a Suntour Superbe front hub and a Velosteel in the rear. The cranks are Sugino 75 with Suntour Superbe pedals.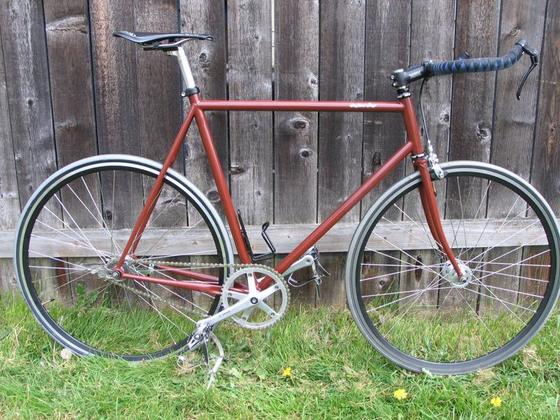 Side view
The bars ar Profile Stoker 26 bullhorns which are wrapped using a harlequin pattern over the entire length. The front brake is a Campy Mirage and like the Rodriguez, the seat is a Selle Italia SLR, the headset is Chris King.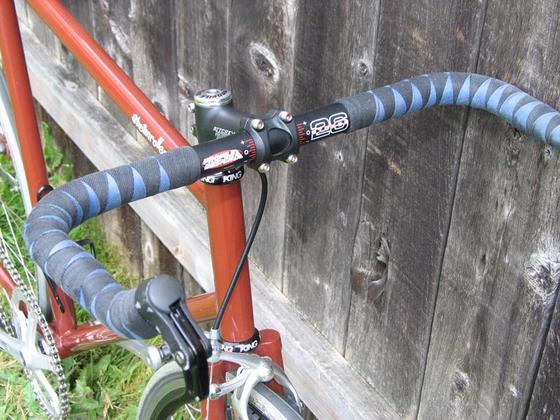 Wrapped bullhorns
Both the Rodriguez and the Steamroller are a blast to ride and are babied with a good cleaning after every ride and a monthly waxing. Strangely, there is no other place in my life where I am so 'finicky' or orderly.....hmmmm.